Techie
Posts: 153
Joined: 05 Nov 2011, 22:16
Location: Respectably Vagrant
27 Jun 2015, 03:18
I spent a few years researching these watches, buying examples and gathering LOTS of photos from the internet. There seems to be consensus amongst Russian and English language sources about the basic facts around the B6-02 movements used in these first Soviet DIgital watches. Piecing together the history and design evolution of these watches is significantly aided by having dates on all major module components (Power IC / Controller IC / Xtal / LC Panel / earlier models also have date codes on the plastic chassis) - and by having a clear sequence of different case designs employed over the years.
The module and electronics were first developed by Pulsar in Moscow. Development began in 1973 and was completed during 1974. The initial chip variants were (two chips) К512ИК2 and К512ПС2 together with the ЦИЖ-2 display panel. The earliest date that I have seen on a module component is November 1974 - whether complete watches were actually available for sale in 1974 is not clear. Most watches of this type seem to have been
made
during early -> late 1975.
The design and responsibility for mass production was transferred in late 1975 to Integral in Minsk. Production dates of the high volume Integral modules seem to start in about the middle of 1976. When production was moved to Minsk, the chip numbers were changed to К2СД004Б and К2ДЧ002. It is not clear if significant changes were made as the designations were changed. By 1976 the module design had been simplified to one PCB, accommodating both new Integral ICs, and an new LC panel ЦИЖ-IV (ЦИЖ-4). This new module variant is easily recognisable from the outside by the new look of the LC panel - the old model has upright square numbers, the new model has slightly rounded italic numbers. This new module variant was then produced with relatively few changes until 1978 (the LC panel was incremented to ЦИЖ-VI (ЦИЖ-6) / the metal LC panel spring contacts were replaced with conductive rubber / the level of finish on the board changed a bit / the plastics changed a bit)
The original 1974/75 watches are quite hard to find amongst the many later models - they are out there though if you know what to look for... 1975 version on the left, 1976 and later version on the right -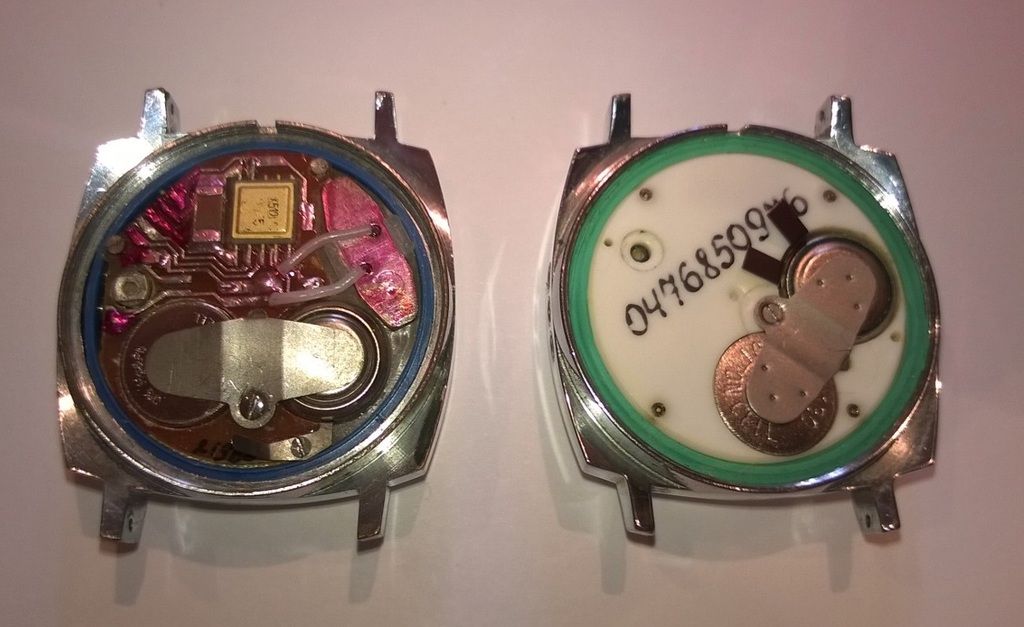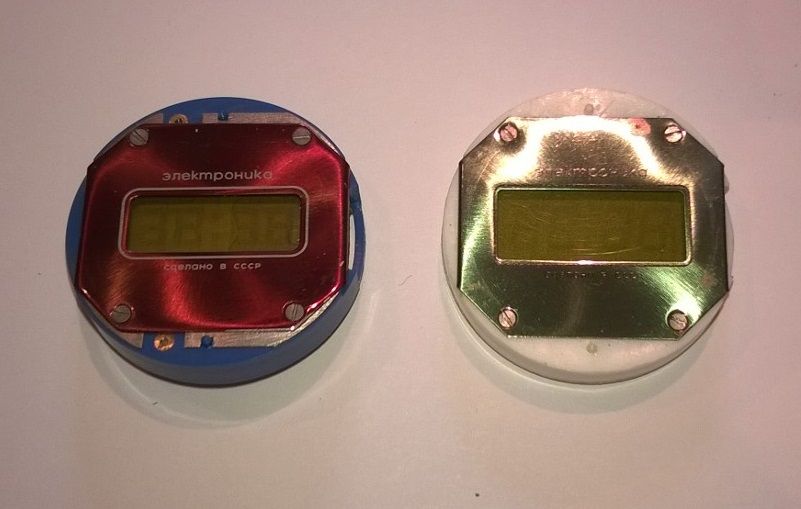 A few more photos of the dated parts from the two module versions -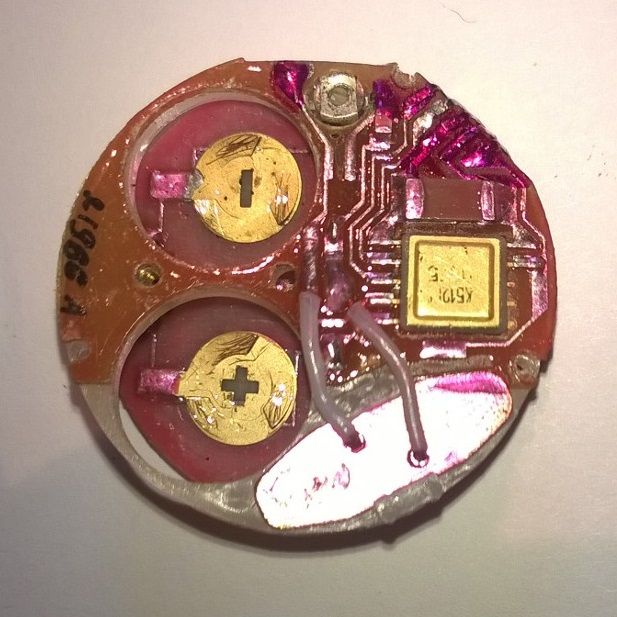 A couple of general shots of the inside of the 1975 module -
A few notes on case styles....
The case style shown in the photos above (and here again below...) was the earliest type and was used until late 1976.
A common design that was introduced in 1977 was the 'big block' -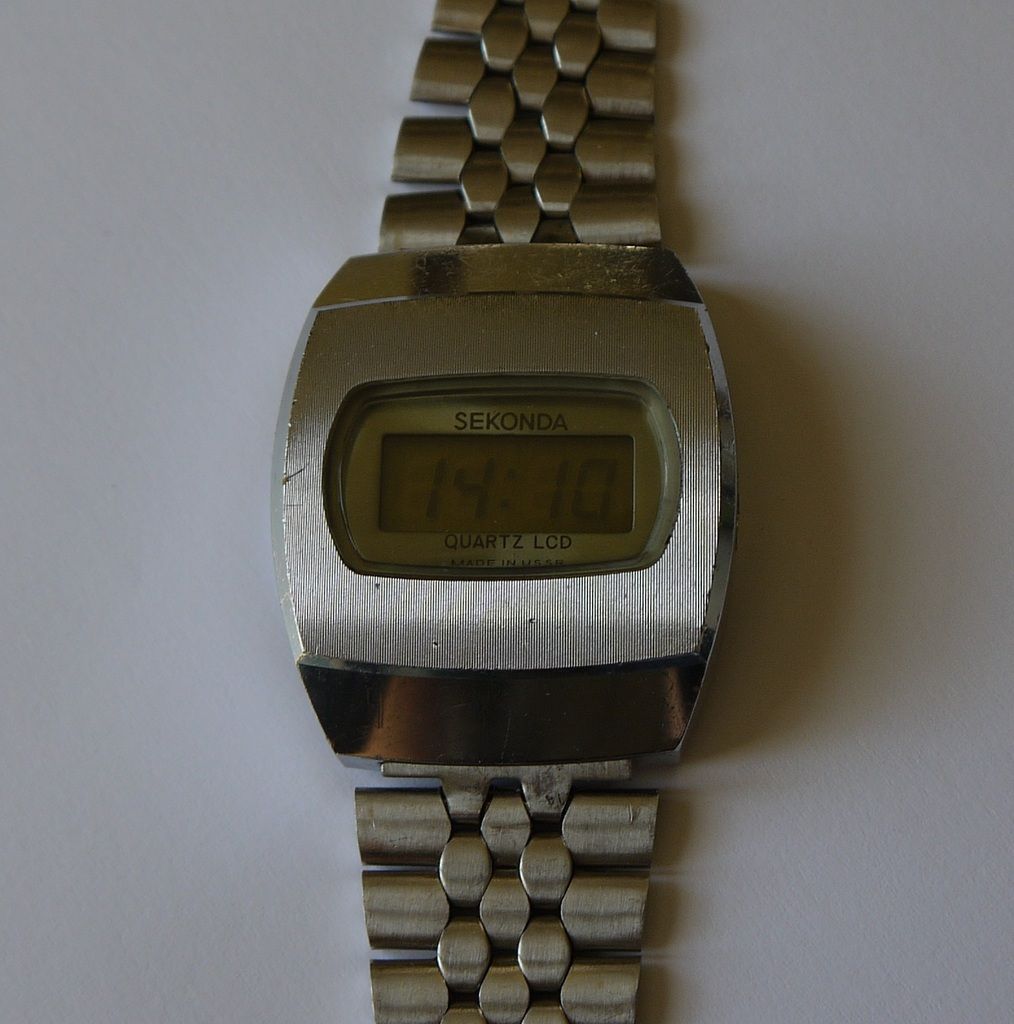 The latest case design, commonly used in 1978 was the 'big round' -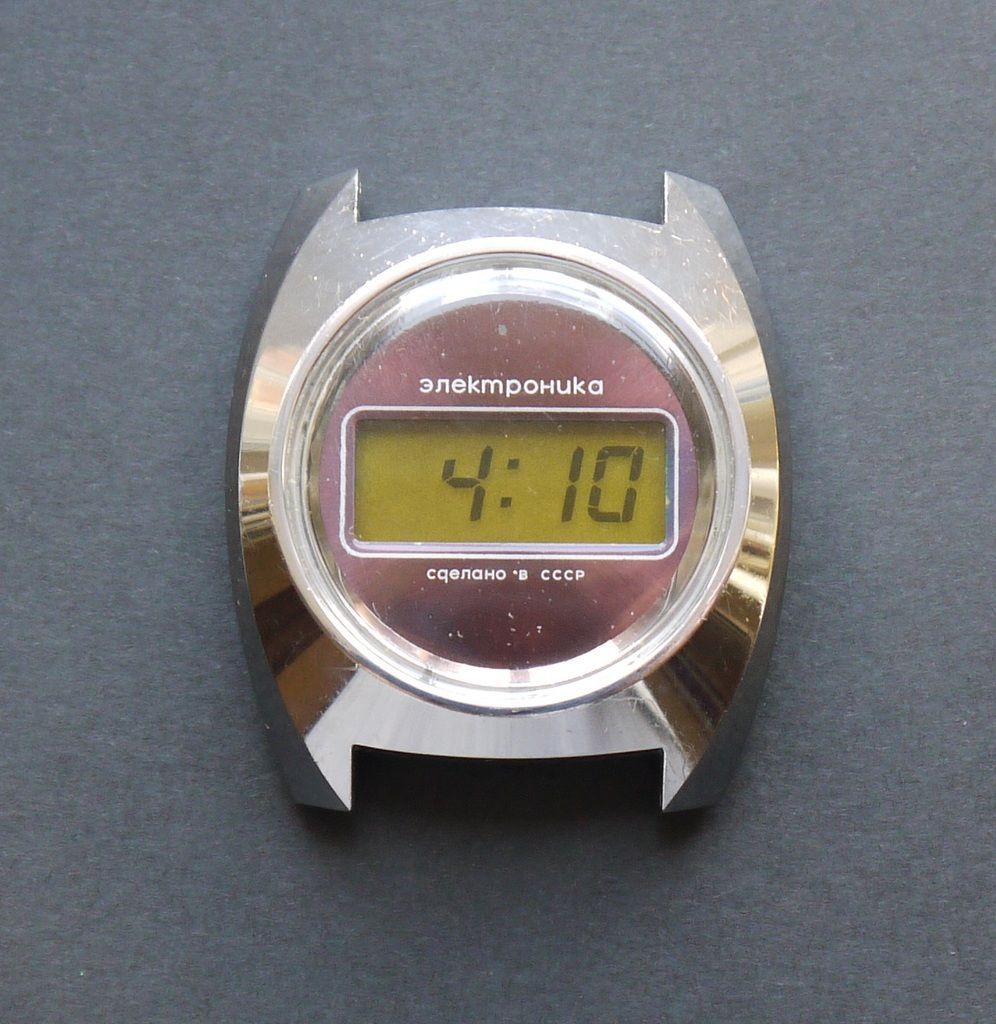 A rare case design in Stainless Steel c1976 (all the others are plated base metal) was produced for continental european markets under the name Electronika (one 'c' and one 'k') - this version is pictured in Doensens book -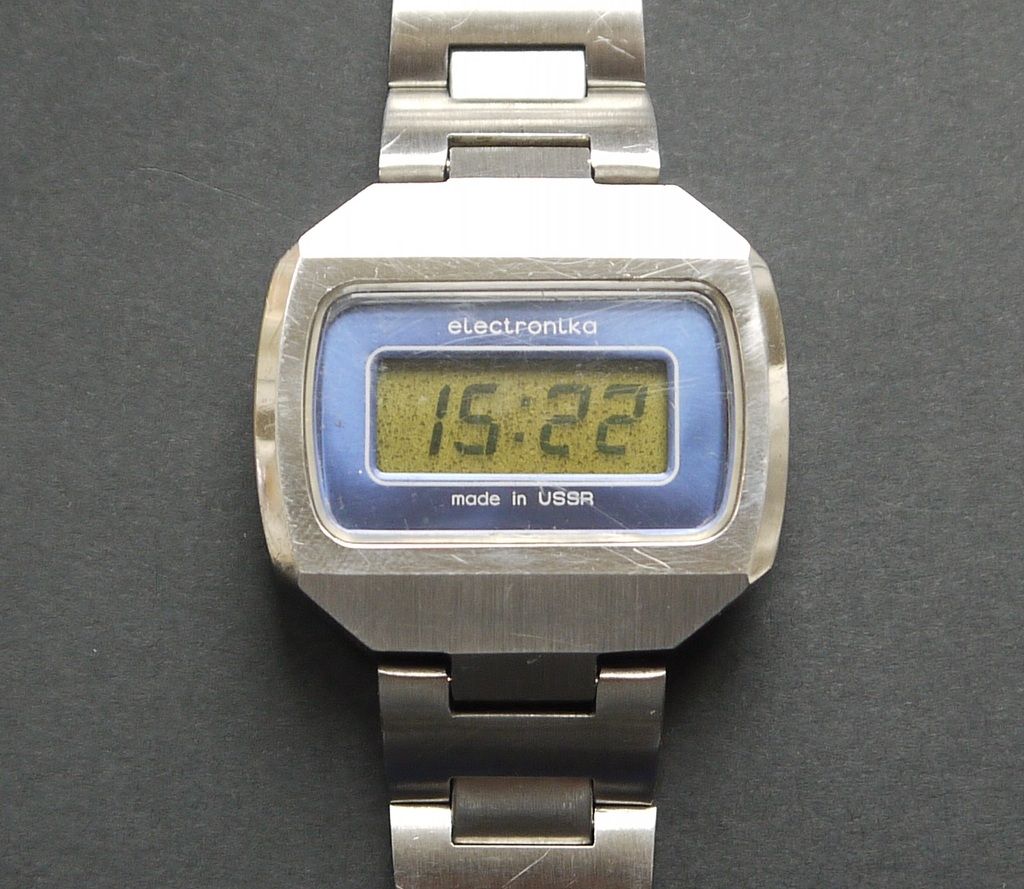 Another rare and early case style was perhaps the first export version (...before the late 1976 Sekondas). It is unbranded and the one that I bought had a strange early 1976 movement with one pulsar chip, on integral chip and a ЦИЖ-IV (ЦИЖ-4) LC panel... I have seen others for sale but they're not common and also not usually described properly by sellers - can be mistaken for an early Nepro or Microma -