Techie
Posts: 217
Joined: 03 Jun 2015, 17:40
Location: EU
11 Jan 2017, 01:05
Hi,
I've heard about the Fossil Wrist PDA watch since the first rumors that it may exist in 2002...and I wanted one
https://www.geek.com/hwswrev/pda/fossil/index.htm
https://www.geek.com/blurb/palm-os-powe ... il-550139/
The 2002 version - only a prototype - received a Best of Comdex 2002 award.
Than it was originally scheduled to be available in June 2003. Shortly after June, the Amazon.com stated the release would be pushed back to July 31st 2003. It was then pushed back to September and then put on an indefinite delay.
http://www.palminfocenter.com/news/6466 ... shed-back/
And finally it appeared in 2004 with the following features:
http://www.conradshome.com/wristpda/
- Motorola Dragonball Super VZ 66 MHz processor
- Operating System: Palm OS 4.1 Very popular handheld operating system. Will allow you to install most palm applications, however, due to the smaller screen size and rocket switch it is recommended to use software specifically developed for the wrist PDA.
- Wristwatch PDA with built-in Palm OS technology
- Customizable Watch Face: You can configure the time display of your choice when not in PDA mode
- Built-in Applications: Address Book, Appointment, Date Book, To Do List, Memo Pad, Watch/Time, Calculator
- 8 MB memory, enough for thousands of addresses, years of appointments, and much more. As an example this watch can store over 75,500 addresses of 111 characters (consisting of a name, address, and two phone numbers).
Backlit touchscreen input, with 160 x 160 pixel resolution (1.4" diagonal), 16 shades of gray. with a stylus integrated into the watch band (a link in the metal band or into the buckle for leather straps) for easy Graffiti input.
But the best thing it's that it may run many - if not almost all - applications available for low-res Palm OS 4.1 or earlier PDAs .
Thus below is my mint Fossil Abacus AU5005 Wrist PDA running Palm OS applications that I've installed on it:
I.
Big Clock app
- a very complex WorldTime, Alarm, Timer, Calendar/Schedule application for Palm OS 4.0 with Backlit ON (left) and OF (right):
II.
A Klingon Watch Face for Star Trek/SF fans
- the TLHack application: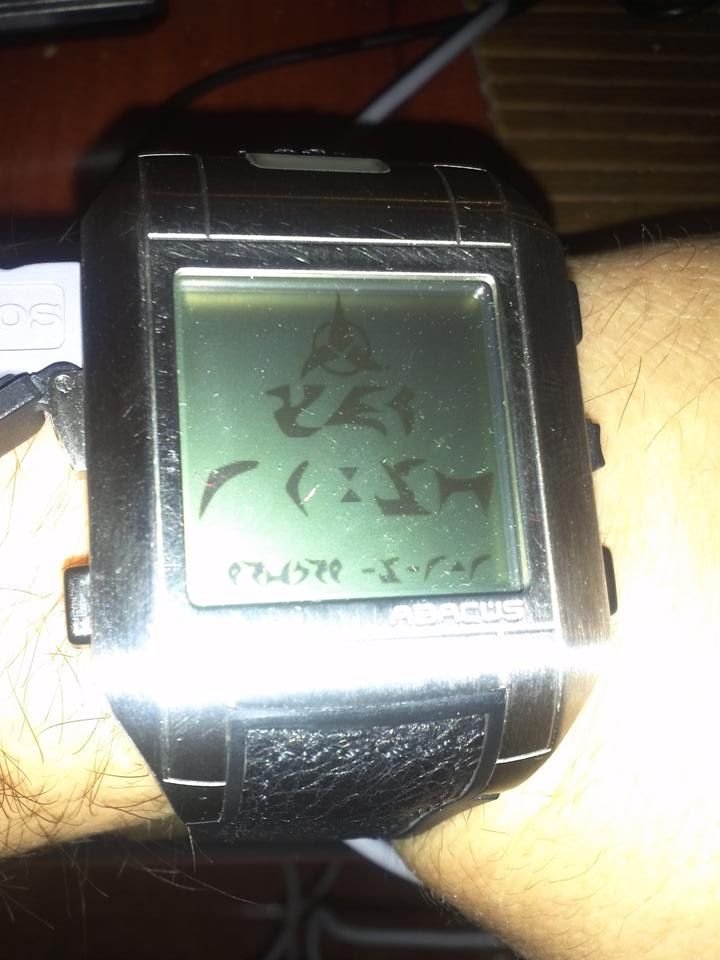 III.
TimeZones
- a Palm OS 4 App: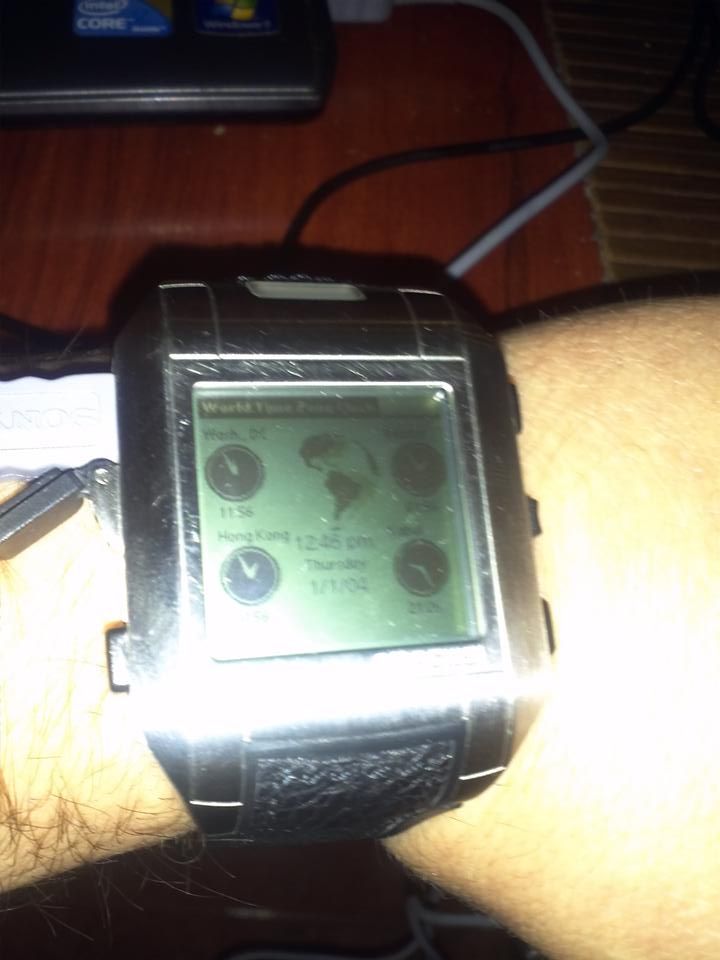 If one need more information about this very interesting PDA/wristwatch hybrid, please let me know,
Regards,
Every watch should have its own story...consequently, a watch collector has to be a good storyteller

:)