Techie
Posts: 218
Joined: 03 Jun 2015, 17:40
Location: EU
28 Apr 2017, 12:31
Hi all,
in the photo below there are some watches quite recently added to my small collection. For some of them I was looking for from quite a long time.
From upper left, here they are:
1. Another

Casio BP 100

(one of my all-time favorites, from strictly technical viewpoint)
2. NOS

Alba Calculator Watch

- Y739 module
http://www.digital-watch.com/DWL/1work/alba-y739-50001
3.

Yema Space Magic

game watch - Y765 module, similar with Pulsar Y765
http://www.digital-watch.com/DWL/1work/yema-y765-5080/
http://www.liquidcrystal.co.nz/watches/ ... ame-watch/
4.

Yema LCD "Space Helmet" watch - cca 1976, with a nice vintage Flixo-Flex bracelet

- I had to find one since I've seen the Kasper's one

viewtopic.php?f=67&t=8079
5. The famous

Seiko RC 4400 - Pocket Terminal (1985) - NOS

, from what I know - the first watch with a Carbon Fiber made case!
viewtopic.php?f=58&t=6805
6.

Microma LCD Chronograph

(cca 1977-1978), ALL SS case and original bracelet, with a nice ESA 942711 module (the same module found in famous Catena Spacesonic watch)
7.

Mint Dugena Lip Electronic (cca 1975) - Roger Tallon Design

- with the French Datolip R184 "electronic" with balance module, the first such movement featuring date on display
https://doensen.home.xs4all.nl/f4.html
8. Famous

Seiko D031-401A

, the first watch with a Dot-Matrix display (1980)
And because I am really curious and to "animate" a little the debates here
, I will kindly ask You:
- which ones (from the above list) do you think that are the more rare and which quite common?

- which ONE is Your favorite from the above ones and which OTHER (than the above presented) digital/electric/electronic watch is your ALL-time favorite?
Thanks in advance for Your kind answers,
Regards,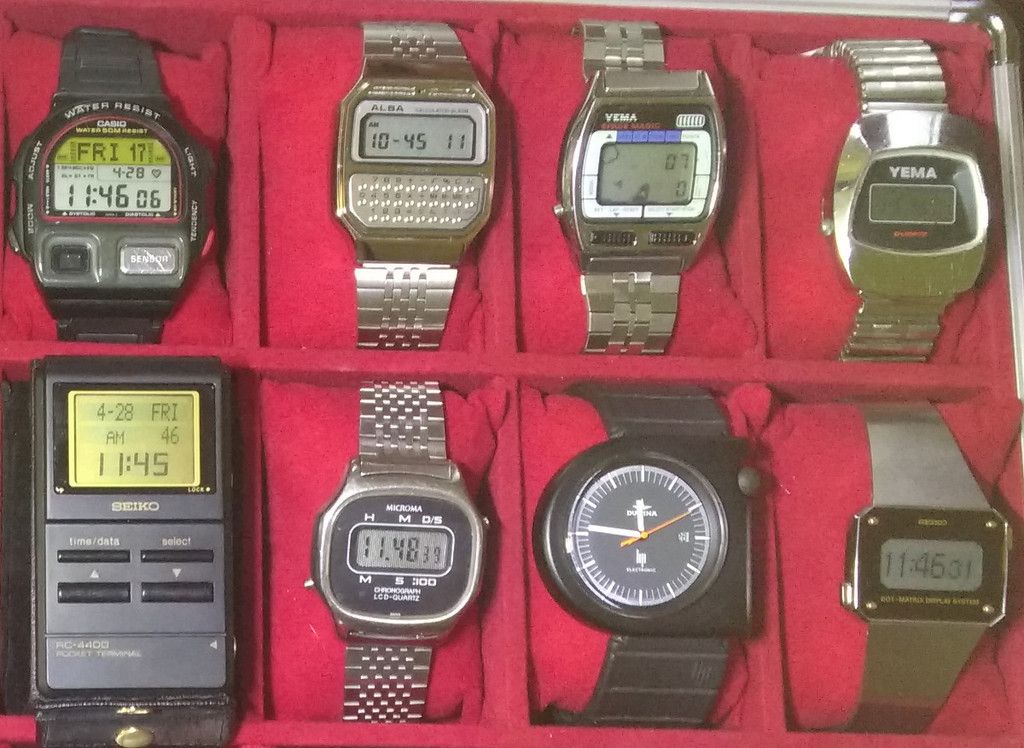 Every watch should have its own story...consequently, a watch collector has to be a good storyteller

:)