Techno Mage
Posts: 564
Joined: 05 Feb 2007, 17:58
Location: VANCOUVER, B.C.
23 Sep 2012, 23:51
A while ago I posted an 'Eye Candy' topic in the LCD forum.
Of course it all started with LED's for me and I thought I would share them with you. Just a side note, I am writing (almost done) a book on Hewlett Packard calculator restorations including the first generation HP 35 to the HP 48 series with all families included. In fact chapter 6 is dedicated to the HP 01 restorations including dissasembly and restoration techniques.
Hence the HP 01's in the posting. Only one of the HP O1 was working when it arrived, that is the NOS in box version. The rest required various levels of restoration.
All the watches below except for the NOS HP 01 have undergone extensive case refurbishment as well as electronic fixes, quartz crystal replacements, new red crystals and etc... They all work, but some are missing the batteries. I only have a few with batteries in them, and those get checked frequently for any signs of leakage.
Hope you enjoy:
Lets start with the HP 01s:
This box contained a NOS HP 01 complete with all papers, battery holder/wrench, pen, original foam packing, as well as... well you can see it all in the picture below. It is the only NOS watch I have ever purchased. The rest were restored and refurbished: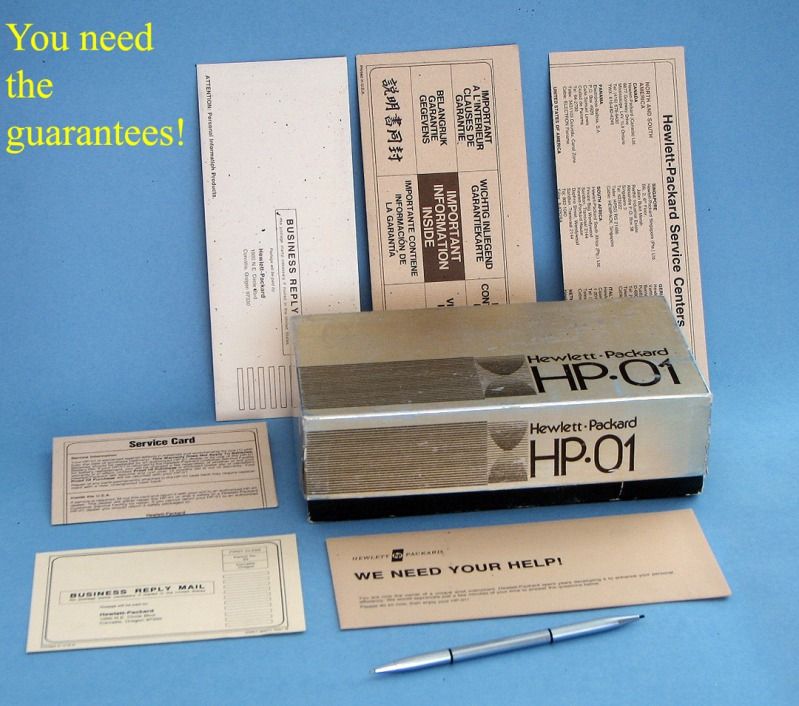 Of course one must open the box: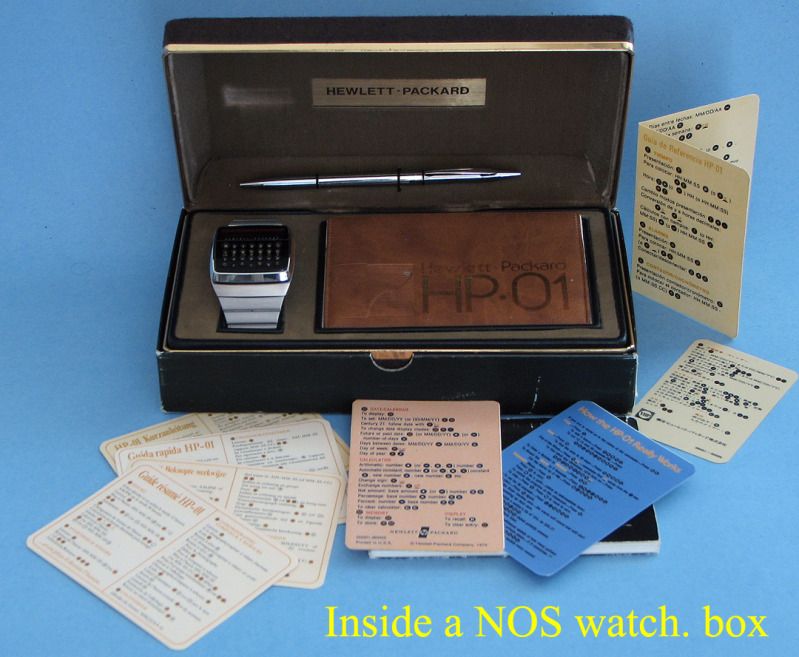 This watch had a new lens installed. I cut it and shaped it to fit, it is also half cylindrical so in magnifies the digit readout. The watch is RGP and required some extensive corrosion cleaning, some traces touched up and an new 38.4kHZ crystal. I use it on the flight deck as I can read the LED display with the magnification!
Compare that to the following watch with a normal lens.
This stainless steel version came to me missing the clear plastic film which separates the keyboard film from the keyboard traces. Fortunately another unsalvageable HP 01 donated its film! The watch came from an elderly (85 years old) HP designer who worked on the HP 01 team. He stated it was a prototype as evidenced by the missing serial numbers on the rear case and the very low profile 'raised' buttons. The lens is handcut armored plexiglass as this watch was missing its crystal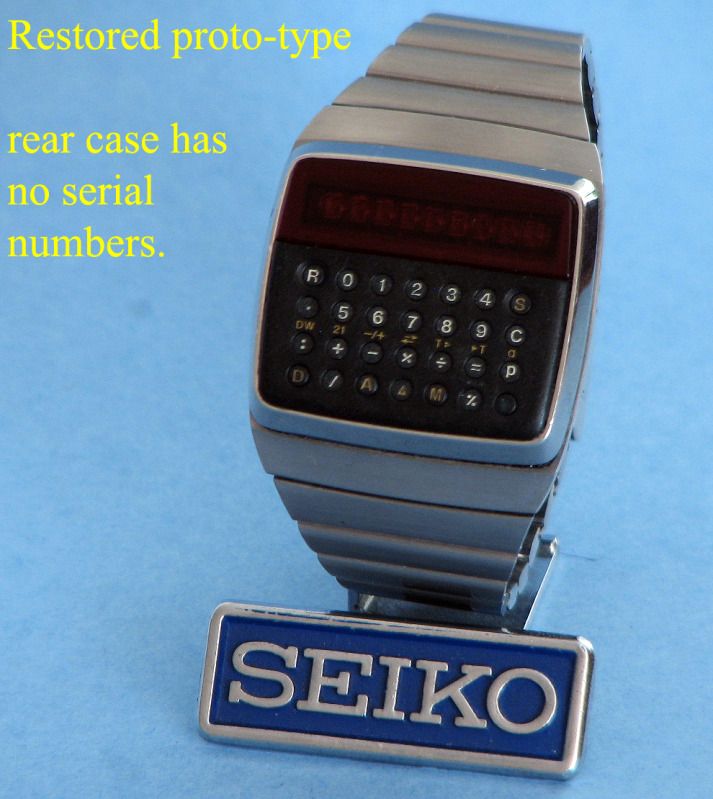 All four together:
And now the Pulsars starting with a Pulsar 901. This is a recent aquisition and was advertised as time only. The calculator had given up the ghost and was not working. The box was from a previous auction for a Pulsar 901 in stainless. I refurbished the case. The keyboard trace film was in excellent condition as was the case and module in the watch. Using a fine camel hair brush i wiped the trace side of the keyboard film with some De-Oxit gold. I also lightly cleaned the keyboard ciruit traces, reassembled and voila, a functional calculator also:
In time mode:
In calc mode:
Yes all the displays work including the negative dot (not shown here):
And now for the others:
Pulsar P4 Classic in RGP with new red crystal and refurbished case. Electronics also cleaned.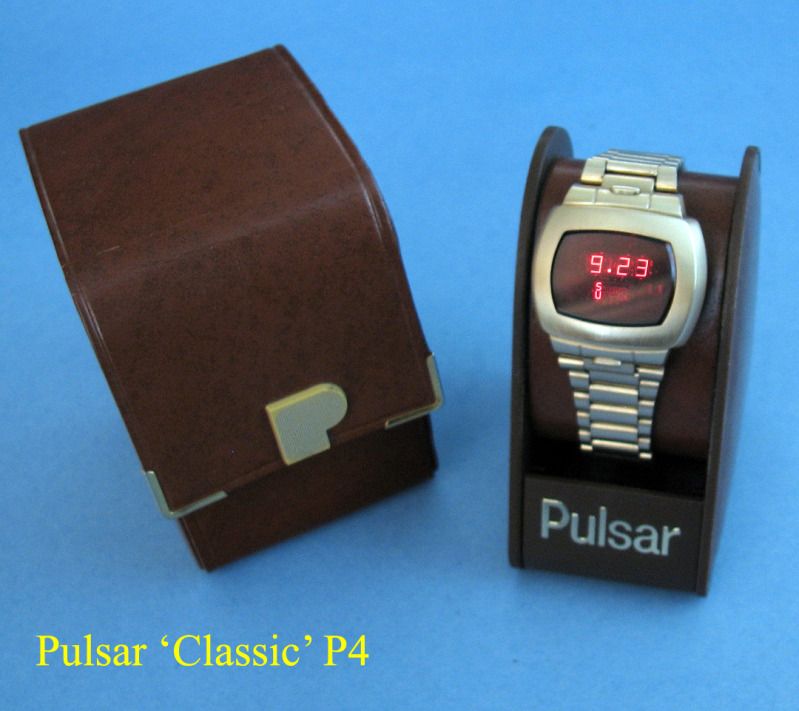 A stainless P2 with original module and an RGP P2 with a SASM module (thanks Hanno).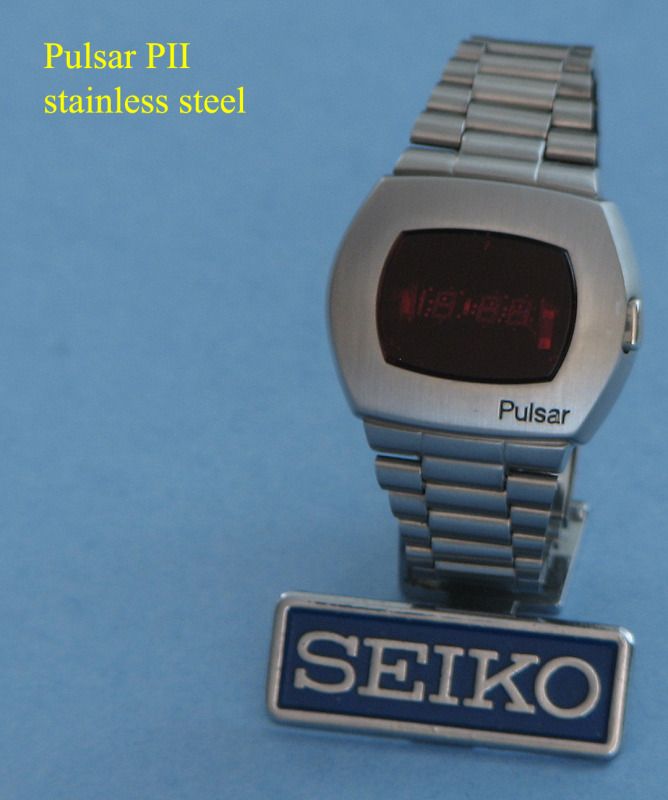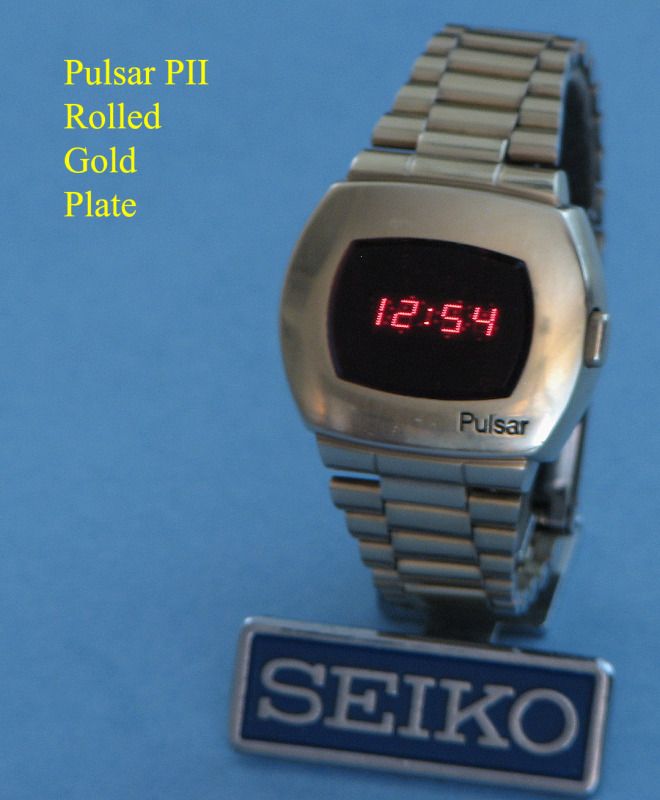 Of course an Omega. I posted about this years ago. I purchased the red crystal at an Omega service centre. It came complete with the Omega symbol. After installation I was cleaning the lens with some Laquer thinner to remove excess epoxy and off came the painted symbol. It was not enamalled!! Oh well the case and watch look good.
A nice Hamilton Alarm in time mode:
In alarm setting mode. Has a nice two tone alarm!
A Bulova driver (also have the four digit version):
Bulova Big Block BLING!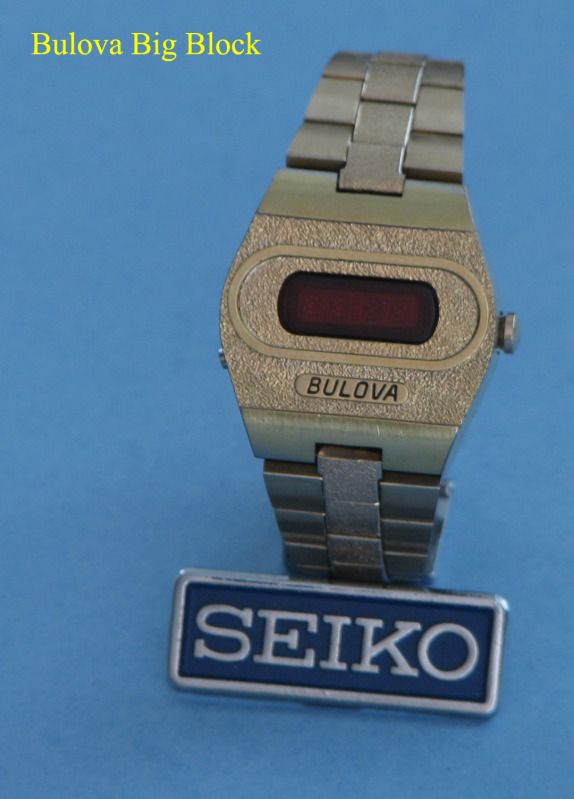 A digicomp DC chronograph in NOS condition: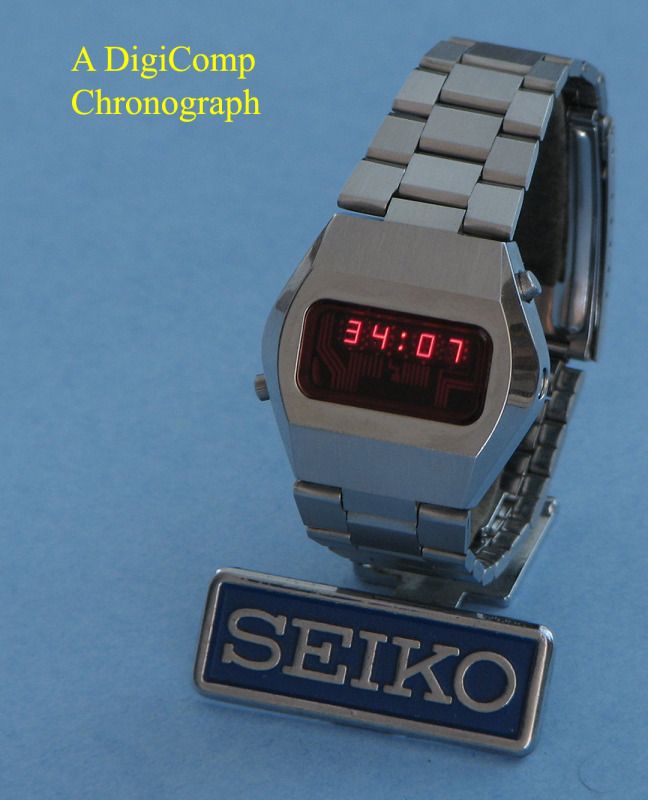 And a Wittnauer Polara to wrap it all up.
There are some mercuries and a TI but thats for another time. Can't wait to recieve the Breitling 9106 in the mail and THANKS, yes a BIG THANKS to OLE Joe who happens to have a NOS module for me which he is timing to 3 seconds a year at 25C!!!
Edited to correct HP 01 crystal oscillation frequency. Thanks for spotting that LED!
Last edited by
767Geoff
on 24 Sep 2012, 09:02, edited 4 times in total.